Cycle training for children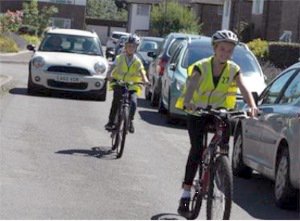 The Cycle Training Team at Surrey County Council provide school cycle training for 18,000 pupils each year. They offer a range of tailored cycle training courses for all ages including:
Secondary Schools:
Bikeability Level 3 advanced cycle training for secondary students - Level 3 equips trainees with skills for more challenging roads and traffic situations – busier streets, queuing traffic, complex junctions and roundabouts. It also includes planning routes for safe cycling. This course is delivered one-to-one or in groups of two in a session of 2-and-a-half hours.
Primary Schools:
Pedals training for years 1 and 2 - Pupils can take part using their cycles, scooters or even on foot. The activities teach pupils some age-appropriate road safety basics. This is a 1-hour course in the playground.
Bikeability Level 1 for year 4 - At Level 1 riders learn to control and master their cycles in a space away from traffic, such as a playground. The course is typically 3 hours delivered in a single day.
Bikeability Level 2 for year 6 - Level 2 takes place on local streets. Trainees learn how to deal with traffic on quieter roads. The course is typically 7.5 hours over 5 days.
All Schools:
Learn to Ride for all school ages - This is for complete beginners – those who cannot ride at all. The aim is to enable pupils to be able set off, pedal, steer and stop. This is 1-hour course delivered one-to-one.
How to Book?
Schools can book cycle training online
If you do not have a login, please contact the cycle training team via our contact centre 0300 200 1003