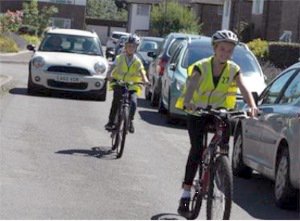 The Cycle Training Team at Surrey County Council provide school cycle training. The team includes 60 qualified Instructors who know their local area.
Secondary schools:
Independent cycling to school - Students will learn a route they can use to cycle to and from school. The type of road will depend on the route. They will learn to make independent decisions – for example, if there is a busy junction they do not want to ride through, it is OK to walk that bit. The training is based on the Highway Code using four key skills: observation, communication, road positioning and understanding priorities. cycling. This course is delivered in groups of two or three in a session of two-and-a-half hours.
Primary schools:
Bikeability Level 1 for year 4 - At Level 1 riders learn to control and master their cycles in a space away from traffic, such as a playground. The course is typically 3 hours delivered in a single day.
Bikeability Level 2 for year 6 - Level 2 takes place on local streets. Trainees learn how to deal with traffic on quieter roads. The course is typically 7.5 hours over 5 days.
All schools:
Learn to Ride for all school ages - This is for complete beginners – those who cannot ride at all. The aim is to enable pupils to be able set off, pedal, steer and stop. This is 1-hour course delivered one-to-one.
How to book?
Schools can book cycle training online. If you do not have a login, please contact the cycle training team via our contact centre 0300 200 1003