Surrey Adult Learning (SAL) has been working hard across all centre sites with tutors, learners, and volunteers to create PPE for front-line NHS staff and key workers, assisting the Government's critical organisation.
During this time, we have witnessed exceptional gestures of human kindness and generosity. The SAL community has come together as one, for the greater good. In these uncertain times, the delivery of essential equipment to help the front-line combat COVID-19 is critical and we are immensely proud of every person who has helped during this crisis.
Outstanding contributions of tutors and learners!
SAL is proud of the contribution of our people who have come up trumps creating hospital approved scrubs and facemasks, using their individual talent to help the NHS. We celebrate the ingenuity and "can do" approach of SAL tutors and learners who are inspirational. We are sure there are many more stories of staff and learners doing their part but here are just a few examples of the inspiring work we've heard about:
Woking tutors
Kim Hopwood, Soft Furnishings tutor, established a community of volunteers to help her in her efforts to assemble scrubs for NHS staff. Kim's inspiration came from an A&E nurse, who had created a Facebook page for hospitals in other county's; having realised that none of our local hospitals featured on this list, Kim set about creating a Just Giving page. The group, known as "Sew Sew Scrubs" comprises of SAL staff, learners and volunteers that Kim has gained along the way. They have already donated completed sets of scrubs to local doctors surgeries and frontline NHS staff.
Upholstery tutor, Danni Hope, has been making laundry bags for the scrubs to be put into when they are sent away to be laundered. Danni has been using stocks of her own fabric supplies and has encouraged her business partner to participate for this cause.
Guildford tutors and staff
SAL staff member, Karen Wrenn, from the Guildford Centre has been making scrub hats and knitting premature baby hats for the NHS using her skills.
Isabelle Gomes who is a Sewing and Soft Furnishings tutor at Guildford and Sunbury, has been cutting out material patterns for scrubs and making them up for St Peter's hospital in Chertsey. Isabel was creating the scrubs under "For the Love of Scrubs" and so far they have made 450 pairs of scrubs.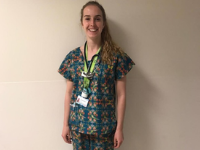 Sue Thornborough a sewing tutor, who specialises in patchwork and quilting, teaches at the Guildford Centre. She has been faithfully making scrubs for NHS staff and, when one of our curriculum staff mentioned that her daughter got a top two sizes too big with no bottoms to match from NHS supplies, Sue offered to make her a pair. The fabric is fabulous – the fit is perfect, and she was so pleased.
Farnham tutor
Alex Pocknell, Sewing and Garment Making tutor, was approached by learner, Jill who attends her Tuesday morning 'Sewing & Garment Making' course at our Farnham Centre.
Jill had heard that a local care home was very short of face masks, so she contacted the home and, having received the required specifications, set to work to make some masks. She called on the help of Alex Pocknell, her tutor and four other learners from her course, who have all become good friends through attending our course.
Having made and supplied more than 200 masks, the small group are now making and will be supplying scrubs for the care home.
Ian Round, pottery tutor at Farnham and Woking, shares how he made PPE
PPE created at The Howard of Effingham.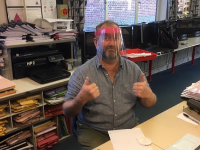 "I have been helping the Design and Technology department who have been using their laser cutters to produce flat pack face shields for use by key workers. The Howard is one of many schools that are doing this nationally and locally are part of a cluster of schools working together with a parent who has children at the school taking the key role in the centre of the hub of the network. The masks have been playing their protective role with staff in A&E at Epsom and St Thomas's hospitals and various other hospitals and care homes around Surrey. Currently demand for the mask remains high but stocks of the material are difficult to obtain."