Taka is a testimony to living life to the full and she is an inspiration to all. The granddaughter of a Samurai warrior, Taka has
shown the determination of her ancestors in achieving her life goals. She recently published her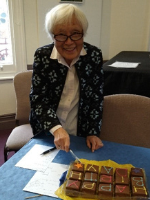 autobiography at 90. Taka was born in 1929 in Tokyo, Japan, the eldest of six children.
She started her own dressmaking business after the war, through which she learned English from her primary customer base, American women. who were based there with their soldier husbands. She saved up enough money to move to America, where she attended art school in Washington DC.
In the early 60s she was on holiday with a friend in Miami, Florida when she met her husband, an American from New York, who was staying in the same hotel. After a couple years of dating long distance, they got married and settled in NYC. After her husband passed away, she eventually joined her family and daughter Michelle here in the UK, about seven years ago.
As an artist, Taka has explored many forms of expression; from painting and dress designing to publishing her own books. As mentioned, last November Taka released her autobiography "Samurai's Granddaughter", charting her life journey from Japan to the USA, life with her poet husband, Bennett, and pearls of wisdom to share with readers.
Her daughter, Michelle, had the idea of enrolling Taka onto a pottery and clay work course at our Guildford Centre and she had a blast! The class enjoyed her company too and felt very privileged to share time with Taka.
Picture: Taka at the signing of her autobiography "Samurai's Granddaughter".