Surrey Adult Learning are excited to be offering new free Multiply maths workshops to help adults in the local community boost their numeracy skills.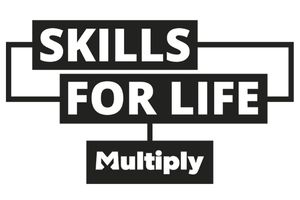 Our workshops will be for adults aged 19 and over who don't have Maths GCSE at Grade C /4 (or equivalent) and live in Surrey. The workshops will be designed to help you achieve one or more of the following objectives:
Support your children with their numeracy skills
Manage your money better
Understand data
Unlock new job opportunities or promotion at work
Take the next step to higher levels of training or qualifications
Our Multiply courses are now closed. Please keep an eye on our website for updates on new courses, or contact us for more information.
---
Maths made simple
An online class to learn skills that make it easier to help your children with homework, understand discounts, follow recipes, manage your money, and even tackle small DIY projects. Imagine feeling more confident and capable in your everyday life, achieving things you never thought possible.
Are you ready to discover the world of fractions, decimals, and percentages? On this course, you'll discover how to use these concepts in your everyday life and enjoy the process along the way! Here's what you can expect:
Introduction to fractions, decimals, and percentages
Interactive lessons on how to convert between them
Engaging exercises and games to test your knowledge
Simple maths with fractions, decimals, and percentages (addition, subtraction, multiplication, division)
Real-world applications in cooking, DIY projects, managing your money, and working with discounts
How to use these concepts to help your children with their homework
Reading and interpreting decimals correctly
By the end of the course, you'll be a pro at fractions, decimals, and percentages, feeling confident in your abilities and equipped with practical skills that can help you in many areas of your life. So why wait? Join us and discover the fun and practical applications of fractions, decimals, and percentages today!
---
The language of maths for EAL families
On this 2 hour online workshop, you will work with the tutor and other EAL (English as an Additional Language) parents and carers to improve your English language skills when talking about or doing maths with your children. You will cover a range of topics that may include:
Digital skills: using Zoom and Google Classroom
Basic maths vocabulary for example; digit, estimate, number bonds and more.
The language of the four operations (addition, subtraction, multiplication, division)
Mathematical vocabulary checklists for years 1 to 6 (National Curriculum)
Useful question starters
---
Maths for retail
This course is designed for those looking to begin a career in retail. You will cover:
Cashing up a till
Calculating percentage discount
Writing a quote
Completing stock order forms
Calculating profit margins
Calculating with VAT
We can provide a certificate on course completion that can be taken to an employer.
---
What is your numeracy like?
Not sure what your numeracy level is?
Our short quiz will help you to understand where you might want to brush up on your numbers. There are six multiple-choice numeracy questions, which will take around five minutes to complete and you may use a calculator if you wish. The questions will also help explain how to get to the correct answers.