Our Cycle Infrastructure map allows you to view cycle routes online.
A set of eight Surrey Cycle Guides shows the cycle facilities and recommended routes across the county. These are available for free from larger Surrey libraries and the Guildford Tourist Information Centre. Unfortunately we no longer have any budget to reprint these and only very limited supplies are left.
A number of pocket-sized maps are available for local areas in Surrey.
---
Longer signed routes
Surrey Cycleway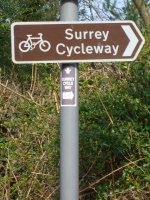 A map of the Surrey Cycleway (PDF) is available to download, or a free leaflet can be requested from the Contact Centre. The route uses quiet country roads and lanes and is well sign-posted. It is suitable for people who have some experience of cycling on roads. The route is marked by distinctive brown and white signs.
Apart from the main loop there are a number of 'links' which enable you to do shorter circuits. There are also links to major towns in Surrey (e.g. Epsom, Woking and Farnham. These links are identified by signs with the words 'Surrey Cycleway Link' on them. The total distance is 150 km (94 miles) but there are many more leisurely short routes. The shortest and flattest route is between the Outwood link and the Leigh link this is only 14km (9 miles) long.
Downs Link
The Downs Link is a traffic-free trail linking Artington (2 miles south of Guildford) with Shoreham-by-sea. It follows the line of a disused railway and as such makes for easy and safe cycling. The whole length is about 37 miles but can be cycled in sections and is particularly well suited to families. There is a signed link to it (following National Cycle Route 22) from Guildford town centre.
The surface is not tarmac but it is firm and generally well drained and there is a continuous programme of maintenance. The trail is suitable for all types of off-road bicycle but can also be ridden quite comfortably (especially the Surrey section) on a touring or hybrid bike.
The Surrey section is shown on Surrey Cycle Guide Map numbers 4 and 6. Information, maps and leaflets are also available from West Sussex County Council.
The National Cycle Network in Surrey
Five routes of the National Cycle Network pass through Surrey. They are all shown on the corresponding Cycle Guides. To see a map of any route, enter the route number on the National Cycle Network website.
NCR4
This is the Thames Valley cycle route, running through Staines, Weybridge, Walton-on-Thames, Chertsey and Molesey. The route is shown on Surrey Cycle Guide maps 1 and 2.
NCR21
NCR21 runs north-south in east Surrey, through Warlingham, Woldingam, Redhill and Horley to Gatwick airport. The route is shown on Surrey Cycle Guide maps 5, 7 and 8.
NCR20 is a branch off NCR21 east of Merstham and heads north through Woodmansterne. Surrey Cycle Guide map 3 and 5 cover this. NCR21 and NCR20 form the Surrey section of Avenue Verte.
NCR22
This runs east-west through Surrey through Farnham and goes via Puttenham, Guildford (linking with NCR223), Shere, Westcott, Dorking, Headley, Epsom Downs, Banstead and Woodmansterne where it enters the London Borough of Croydon and becomes NCR20. The route is shown on Surrey Cycle Guide maps 3, 4 and 5.
NCR221
NCR221 follows the Basingstoke canal between Pirbright and New Haw (junction of the canal with the River Wey) going via Woking town centre where it links with NCR223. The route is shown on Surrey Cycle Guide map 2.
NCR223
NCR223 goes between Guildford (linking with NCR22) and Chertsey (linking with NCR4) via Woking (linking withNCR221). The route is shown on Surrey Cycle Guide maps 2 and 4.
A sixth route (NCR222) also crosses Surrey but is more commonly known, and also signed as, the Downslink.
---
Other guides
The Yew Tree Way is a circular cycle route in south east Surrey running through Lingfield and Hurst Green. It is 15 miles long and follows quiet country lanes. Accessed via railway stations at Hurst Green and Lingfield, the route can be shortened by using the rail link between the two stations. The route is on-road throughout so some experience of cycling on roads is necessary. Wooden way marker posts are provided for cyclists following the route in an anti-clockwise direction only.
Christmas Pie cycle route
The Christmas Pie Trail is a leisure cycle route running from the northwest edge of Guildford (Applegarth Avenue) to the east side of Farnham (Shepherd & Flock roundabout). The route is 8.5 miles long. It runs along country paths, mostly surfaced and some quiet lanes. There is a busy road to cross toward the Farnham end. The route has signs that incorporate a Christmas pudding logo. Surrey Cycle Guide map 4 covers the route.