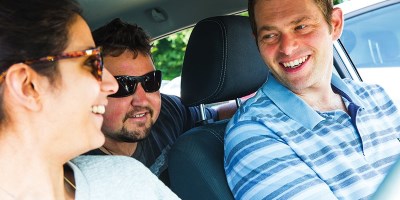 If you regularly commute to your workplace by car you could save up to £50 a month by sharing your journey with a colleague.
Lift sharing (also called car sharing, ride sharing and carpooling) is simply an agreement between two individuals to travel together by car, reducing fuel costs without giving up the convenience and comfort of a car.
Search for a partner on Surrey Liftshare.
Lift sharing can be used for any type of journey, both business or leisure. Feedback from regular lift sharers tells us that they feel safer, enjoy the chance to have a chat and even make new friends. The benefits will be felt much more widely too, since congestion and pollution are both reduced by having less cars on the road.
---
"I have found it very beneficial not only by saving money and the planet but meeting new people and ensuring I get away on time".
"I car share a couple of times a week, and it saves me £12-£15 each time I don't have to drive".
"When the traffic is bad...having the other person in the car makes you feel less stressed".
---
The first step is to find out if someone living near you shares a similar journey, which is easy to do thanks to Surrey Liftshare.
Simply enter your start and end point and see if there are any similar commuters close by; over 4,000 Surrey residents have already signed up so there's a good chance one of them goes your way. It's a completely free service and personal details are not shared with other users unless you want to contact them.