8 September 2022 update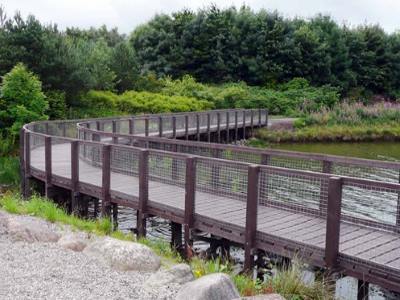 We are pleased to confirm that work was started in June on the construction of the scheme to create three holding ponds with a combined capacity of over 16 million litres of surface water from the Rive ditch system. The aim of this project is not only to increase capacity of the drainage system to alleviate local flooding, but to improve accessibility and introduce new wetland ecosystems to enhance the biodiversity of the area. Our contractors were able to mobilise earlier than expected to take advantage of the favourable conditions; we apologise for the late communications and concern this has caused some residents.
We have been working closely with Horsell Common Preservation Society and commissioned a full ecological report before commencing work. The seasonally flooded areas will be of particular benefit to invertebrates, reptiles, and amphibians. As per the recommendations we will be installing new hibernacula around the site. These are underground chambers that amphibians and reptiles use throughout the winter to protect themselves from the cold. Once the ground works have been completed, we will be re-planting native trees and sowing an appropriate wildflower mix for the location.
To improve accessibility for all, we are installing 400 meters of recycled plastic boardwalk over the new ponds and creating over 2 kilometres of all weather hard standing and free draining footways across the site. This will ensure that Wheatsheaf becomes accessible all year round for as many different users as possible.
We will also be carrying out maintenance to the existing ditches around the common to ensure they work as they should and operate effectively with the new pond systems to drain surrounding roads and convey water across the common. It is expected that works will be complete by winter 2022.
The scheme will provide additional storage for flood water and provide a benefit to the surrounding areas of the common, but Surrey County Council and Woking Borough Council are also looking at other measures that will reduce the impact of flooding in and around Woking town in addition to the works on Wheatsheaf Common:
Rain gardens to store storm water across the centre of Woking
Working with residents to help identify ways of reducing the impact of flooding by installing flood resilient doors
Surveying highway drainage to make sure it is fully functional
Advising resident on other drainage solutions
Working with adjacent landowners to make sure ditches are kept free flowing
Previous updates
27 May 2022 update
Commons Consent from the Secretary of State has now been approved. The team are aiming to start work on this project mid June and the work is expected to last three to four months.
21 February 2022 update
Our partners the Horsell Common Society are awaiting Commons Consent from the Secretary of State.
14 September 2021 update
Application has gone to the Secretary of State for Environment, Food and Rural Affairs for consent to carry out the works on Horsell Common. Preparation for trial holes to investigate the position and depth of utility services by the end of September.
9 August 2021 update
The creation of the S.A.N.G at Horsell Common is still scheduled for delivery this financial year but we had to put the scheme on hold. This is due to a delay in the Commons Consent from the Secretary of State via the Planning Inspectorate (PINS) under section 38 (3c) of the Commons Act 2006. All other high risk activities associated with the project are in place and are listed below but, without the Commons Consent, we can't proceed any further with the construction phase of the scheme
High risk activities completed
Funding secured
Procurement completed
Contractor appointed
Design finalised
Stakeholder engagement underway
Principle designers and contractors appointed (Construction design and management regulations)
Local Planning consents agreed
Natural England agreement
Supporting ecology report
Horsell Common is one of only a handful of privately owned areas of common land in England with public access. The Horsell Common Preservation Society Trustees who manage the common, do so with great care out of respect for the wildlife living there and the general environment. They are responsible for managing Horsell Common, Pyrford Common, Littlewick Common, Woodham Common and various parcels of adjacent land proposed to extend the current suitable alternative natural greenspace.
A Suitable Alternative Natural Greenspace (SANG) is a recreational site, created to attract existing as well as new away from designated sites that need protecting due to their valuable ecology and are sensitive to recreational activities such as dog walking
Horsell Common Preservation Society has teamed up with Surrey County Council and Woking Borough Council as they have identified an opportunity for providing flood storage within the proposed SANG extension which will help alleviate downstream flood risk to housing within Woking.
Surrey County Council has identified this area for flood storage potential. We are working closely with Horsell Common Preservation Society in designing storage areas which have high storage potential whilst minimizing the excavation volume. The report and design are still at the draft stage but will be available to view at a later date once they have been finalised.
The initial stages of the project are underway and involve the removal of some trees and scrub to clear the areas where the SANG will be created. We are hoping to carry out the construction phase within the summer months of 2021 as this will be an ideal time to reduce the impact of the works on the wider environment. Further information as to the exact starting dates will be advertised once known.