What is fine milling?
Fine milling is an innovative, sustainable, and cost-effective highway maintenance solution, that replaces the need for a new asphalt surface now and for the foreseeable future. The fine milling process removes the old failing asphalt surface but then refurbishes the largely solid original concrete road beneath.
The process involves levelling out the joint locations where one slab has possibly settled lower than its adjacent neighbour, causing a bump when driven on. It also reinstates grip by retexturing the concrete surface itself, and repairs all joints and cracks using a specialist material. We can also repair deep sections of the concrete that have entirely failed. All the materials used are of a similar colour to concrete so that all repairs largely match the concrete surface colouring, or will do when weathered in a little, avoiding black patches that can make the surface look untidy.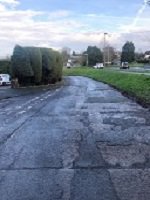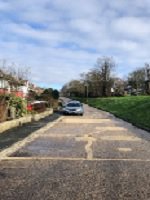 Where will fine milling be used?
We were spending up to £1 million annually on continuously removing and replacing the very thin asphalt surfaces that have traditionally been on the top of most of our concrete roads. It gave no benefit to the road structure other than how it looked, and perhaps a little more grip, but it would last only around four to five years before it started peeling and leaving unsightly 'potholes' that looked ugly and made for a bumpy ride, these potholes generally would be too shallow for repair.
What are the advantages of fine milling?
Ultimately, fine milling is an innovative, sustainable, and cost-effective highway maintenance solution
The new process costs roughly the same as the micro asphalt, we spend more on the jointing materials so that they last longer but save by not having to put back a new asphalt surface. The process reduces the impact that resurfacing has on the environment by removing the need for new surfacing materials to be produced and transported to the site, both now and for many years to come.
Roadtech's video about fine milling and joint repair
Ultimately, fine milling is an innovative, sustainable and cost-effective highway maintenance solution, extending the life of surface, or in some cases replacing the need for a new surface.
Will the joints and cracks be filled in with the same colour as the concrete?
The joints, edging and large cracks on the surface will be filled with a specialist material. This will then have a resin layer over the top which over time will match that of the concrete. The above after photo shows the surface immediately after a scheme has been completed. The lines and patched areas will weather and match the concrete road surface.
Why are there times when no work is being carried out?
This innovative process involves different stages of work, each undertaken by a different specialist contractor. Whilst we endeavour to keep each work stage as close to each other as possible, there are sometimes delays where the next specialist contractor may not have immediate resource or delayed due to weather or unforeseen issues on another job. As the process of concrete fine milling is new to the County, and is being undertaken as a trial, we have learned that until we remove the top surface on the road, we will not always know what we will find underneath. This means that we are not able to plan for every eventuality and sometimes the need for additional works is identified as a scheme progresses. This means there may be times when there is no work or crew on site.