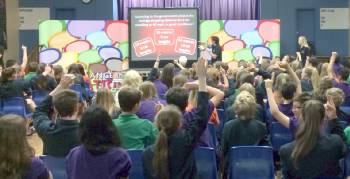 Raising awareness of the risks of unsafe young pedestrian and driver behaviour and the effects it can have on others
The aim of our live and impactful road safety theatre performances is to make students aware of the of their responsibilities as drivers, think about the risk and consequences of failing to adopt safe behaviour as a pedestrian or young driver, and positively influence their attitudes and behaviour.
With emotive, engaging, and thought-provoking speakers, performers and videos these educational theatre productions bring home the message.
Streetwise (year 7)
Delivered in the Spring term, this production focused on the fact that the student audience is the transition year between primary and secondary school where many students have recently become independent travellers and as such have been identified as an age group of exploration and prone to risk taking, representing a peak in pedestrian casualties.
Box clever (year 11)
Delivered in the Autumn term, this production focuses on the fact that the student audience is seen as a year where students prepare for college, sixth form or work and are exposed to increased peer pressure and risk due to either being a new inexperienced driver of the passenger of one.
Safe Drive Stay Alive (years 12 and 13)
Delivered in the Autumn term, this production focuses on the fact that the student audience of young adults aged 16 to 18 are an age group that is most likely to be in a fatal road collision. Managed by the Surrey Fire & Rescue Service, Safe Drive Stay Alive is an educational performance which features a sequence of films and live speakers on the topic of road safety.
Highlighting first-hand stories which create emotional engagement and impress upon the audience that their future really is in their hands. These productions put a spotlight on real-life experience, recounted by the people directly affected by a road traffic collision, and featuring the serious, long term impacts to themselves and all those around them.
After each film an individual from each of the emergency services takes to the stage:
a police officer
a paramedic
a firefighter
and Accident and Emergency doctor or nurse
They speak about their experiences of attending road traffic accidents or treating patients, and how these have affected them professionally and personally. Volunteer members of the public including mothers, fathers, siblings, young drivers also give their personal accounts of how their lives have been affected by a fatal road traffic collision.
Safe Drive Stay Alive information, performance dates and bookings
Contact us