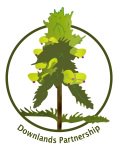 Now in its 30th anniversary year, the Downlands Partnership provides an established urban fringe countryside management service, enhancing the local environment for people, biodiversity and wildlife.
We are hosting two special celebratory public events this summer/autumn 2018 to mark our landmark anniversary.
The first event took place on Sat 7 July at Chipstead Downs, also marking the fourth annual National Meadows Day as well as Fields in Trust's #Haveafieldday. Over 30 visitors braved the intense heat to enjoy the two wildflower guided walks, discovering the glorious Local Nature Reserve alive with rare plants and butterflies.
The second event is taking place on Sat 13 October - the Big Scrub Bash at Addington Hills from 10am with a free lunchtime BBQ for all volunteers. Meeting/parking in the main car park off Shirley Hills Road. Please do come and join in, you would be very welcome. For further details please call 01883 341140 or email: downlands@surreycc.gov.uk.
The aims of the Downlands Partnership encompass the whole range of countryside management activities relating to access, landscape, biodiversity, sustainability, information and community involvement. The Partnership area contains a variety of habitats and features, but is dominated by the rare chalk downland habitat found on the scarp and dip slopes of the North Downs. Its area of operation covers countryside sites, many being LNRs and/or SSSIs (Local Nature Reserves/Sites of Special Scientific Interest) in NE Surrey and adjoining parts of Croydon and Sutton. The rolling chalk hills and associated valleys give rise to stunning scenery; the sites are managed in partnership with local authorities and private land owners.
The Downlands Partnership has been extremely successful in achieving a wide range of countryside improvements and generating support and involvement in practical conservation from local communities, including many corporates locally and from further afield.
A dedicated, enthusiastic group of countryside volunteers help support the work of the Partnership and new volunteers are always very welcome; why not check out the varied programme of volunteer tasks on offer throughout the year? Also have a look at our Facebook page, which features news and photos from our weekly task programme and more.
Volunteering in the glorious local countryside is great for happiness, health and habitat. Come & join our happy conservation crew!
The Downlands Partnership also has its own flock of sheep (breeds: Herdwick, Beulah Speckled Face & Jacob), Sussex cattle and British feral goats, that seasonally graze the chalk downland as part of the long-term countryside management partnership programme. Find out more @downygrazers and Facebook.