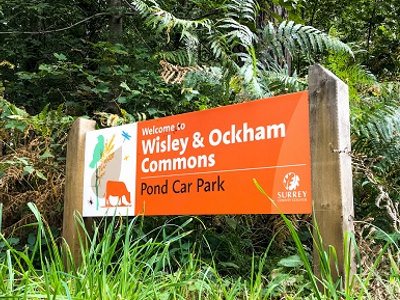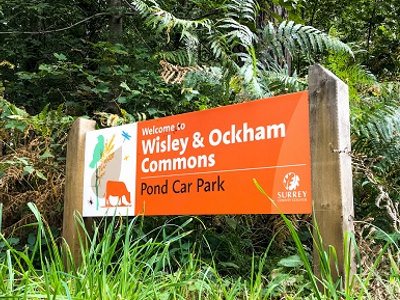 These commons comprise 800 acres of predominantly heathland situated on either side of junction 10, joining the M25 motorway to the A3. Situated near to the famous RHS Wisley Gardens, the commons are a beautiful landscape and open space to get away from it all. Chatley Heath forms part of the commons.
As well as beautiful natural habitats such as Boldermere Lake and the wildlife that visits, there are also some interesting man-made features. Built in 1822, the historic Semaphore tower sits at Chatley Heath on the south-east side of Ockham common. Hidden in the woodland close to this is the Samuelson Mausoleum, built in 1919 by Sir Henry Samuelson to be a 'Temple of sleep' for his family. In 1992 the building and surrounding land were acquired by Surrey County Council.
Please take care of our countryside and open spaces, particularly areas of heathland where fire risk is high. Take note of the Countryside Code.
Wisley and Ockham Commons are owned and managed by Surrey County Council for public access including site management and litter bins, car parks and the visitor centre next door to Ockham Bites cafe.
You will find information about how this site is managed for conservation, including the grazing of cattle and the wildlife to look out for at Surrey Wildlife Trust.
Accessibility
Limited access in Boldermere car park around Ockham Bites' picnic benches
Accessible toilet facilities
Most areas are not suitable for wheelchair users or those with limited mobility due to sandy tracks on heathland
Good for
Abundant heather on the heathland from late summer
Long walks using the footbridge joining Wisley and Ockham commons
Dog walking - under effective control
Bird/nature-watching
Historic sites to discover
Family wandering and picnics
Facilities
Three free car parks
Ockham Bites cafe with picnic benches outside at Boldermere car park
Visitor centre open with tables inside at Boldermere car park
Toilet facilities including accessible at Boldermere car park
Baby changing facilities
Picnic benches and level grassy area at the foot of the Semaphore Tower
Nearest postcodes for site, What3Words and OS reference
On the Ockham side :
Boldermere Car Park – KT11 1NR
Pond Car Park – KT11 1NR
///strain.random.galaxy
TQ 080 590
On the Wisley side:
Wren's Nest Car Park – GU23 6QA
///trader.unless.foil
Self-guided walking routes
There are waymarked trails on the commons that are being updated. Follow the colour coded routes on the information board and the waymarks en route. Here are some other walking options:
Route starting from Wren's Nest car park - Wisley Common and Wey Navigation
Routes available on AllTrails website:
Contact
Send us any photos you take that you're happy to share on social media, tag @ExploreSurreyUK.
If you need to get in touch to tell us about any issues on the commons:
Email: countryside.estate@surreycc.gov.uk
Phone: Contact us via our contact centre
Environmental designations of Wisley and Ockham commons and what they mean
A Site of Special Scientific Interest (SSSI) is a formal conservation designation. Usually, it describes an area that's of particular interest to science due to the rare species of fauna or flora found onsite.
Wisley and Ockham Commons are part of the Thames Basin Heaths Special Protection Area (SPA). This is a designation under the European Directive relating to the conservation of wild birds.
Local Nature Reserves (LNR) are special areas designated by Natural England as being a natural resource contributing to biodiversity. They must be looked after by the local authority in whose area they are located.