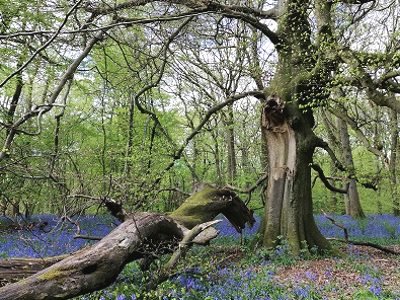 White Down is an unspoilt spot high in the hills above Abinger which can also be accessed off the road to Ranmore Common. The site is an uphill climb from the car park past many areas of undisturbed woodland which show off their beautiful annual bluebell displays. White Down is hilly and muddy after rainfall and during winter months.
Walk further on and you will come to an open area of chalk grassland and the North Downs Way trail. The trail runs through Blatchford Downs, which is looked after by the National Trust.
There are many World War II pillboxes along this section of the hillside, with views to Surrey Hills villages below and beyond to the Greensand Ridge.
Please take care of our countryside and open spaces. Take note of the Countryside Code.
White Down is managed by Surrey County Council on behalf of the Wotton Estate who own the land. We manage public access including site management and litter bins, car park and visitor services such as self-guided walking trails. This site is managed for conservation by Surrey Wildlife Trust.
Accessibility
This site is not accessible to those with limited mobility due to its hilly location and muddy paths.
Good For
Getting away from it all in an unspoilt location
Large woodland site to explore and picnic
Great views from Blatchford and Hackhurst Downs
Dog walking - under effective control
Historic pillboxes on the chalk hillside
Seasonal colour, bluebells in springtime in the woodland
North Downs Way long distance trail
Facilities
Large free car park on the hillside off White Down Lane
Self-guided trails through the woodland
Nearest Postcode for site, What3Words and O/S map reference
GU5 6SL
///linen.total.pitch
TQ 096 487
Car Park Location
Off White Down Lane, GU5 6SL
Self-guided walking routes
There is a waymarked trail from White Down that is being updated. Follow the colour coded routes on the information board and the waymarks en route. Here are some other routes to discover:
Contact
Send us any photos you take that you're happy to share on social media, tag @ExploreSurreyUK
If you need to get in touch to tell us about any issues at White Down:
Email: countryside.estate@surreycc.gov.uk
Environmental designations of White Down and what they mean
The Surrey Hills Area of Outstanding Beauty (AONB) covers a quarter of the county of Surrey. The AONB was designated for conservation due to its significant landscape value in 1958 and enjoys levels of protection from development.
Ancient Woodlands are areas of persistent undisturbed woodland that have survived since 1600 in England, they are home to many species of plants, fungi and insects so of great benefit to biodiversity.