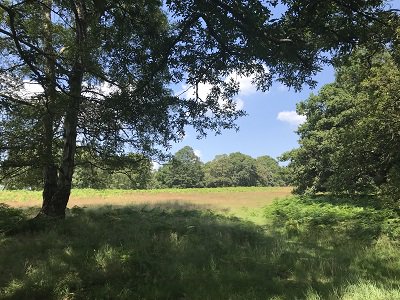 Located to the west of Milford, the hidden gem of Rodborough Common is part of the large heathland open space of Thursley National Nature Reserve, which is managed by Natural England. There are many sandy paths to wander along, far reaching views and areas of natural woodland good for picnicking.
Rodborough Common is located in the Surrey Hills Area of Outstanding Natural Beauty (AONB) and is a Local Nature Reserve.
Please take care of our countryside and open spaces. Take note of the Countryside Code.
Rodborough Common is owned and managed by Surrey County Council for public access including site management and litter bins, car park and visitor services.
You will find more information about how this site is managed for conservation and the wildlife to look out for here Surrey Wildlife Trust.
Accessibility
The common is fairly flat but there are hills when you reach Thursley Nature Reserve
Path from the car park suitable for wheelchairs or buggies
Benches dotted around the site
Witley Common Easy Access trail nearby (please note car park payable unless NT member)
Royal Common Easy Access trail is one mile east of Elstead
Good for
Large open space to explore and picnic
Seasonal colour on this heathland site
Many peaceful sandy trails to wander
Dog walking - under effective control
Nature watching - butterflies, birdlife and heathland reptiles and invertebrates
Historic interest - during WWII the area was used as a military training ground
The Greensand Way long distance trail is nearby
Facilities
Large free car park
Self-guided walking routes
Bus routes 71, 72, 503 serve Milford which is 15 minutes walk away
S4P B1KEPARK professionally constructed bike jumps are owned and managed independently of SCC. The bike park is accessed from the eastern end of Rodborough Common car park and is approximately 200m from there. Please walk your bike along the path when accessing the park.
Nearest postcode, What3Words and O/S map reference
GU8 5BL
///probing.zooms.buckling
TQ014458
Car park location
The entrance is off the southbound slip road to the A3 at Portsmouth Road, A3100 /A283, Milford. The surfaced access track goes under the A3 with a two metre height restriction and the car park is located to the west side of the A3.
Self-guided walking routes
There is one 1.5 mile waymarked trail at Rodborough Common. Others are being planned and developed including an Easy Access trail. Follow the colour coded routes on the information board and the waymarks en route.
Contact
Share any photos you take with us on social media @ExploreSurreyUK
If you need to get in touch to tell us about any issues at Rodborough Common:
Email: countryside.estate@surreycc.gov.uk
Phone: Contact us via our contact centre
Environmental designations of Rodborough Common and what they mean
Surrey Hills Area of Outstanding Beauty (AONB) covers a quarter of the county of Surrey. The AONB was designated for conservation due to its significant landscape value in 1958 and enjoys levels of protection from development.
A Site of Nature Conservation Importance (SNCI) designation is given to sites that have substantive local nature conservation and geological value.
Local Nature Reserves (LNR) are special areas designated by Natural England as being a natural resource contributing to biodiversity. Local Nature Reserves must be looked after by the local authority in whose area they are located..
Rodborough Common LNR forms part of the Thursley National Nature Reserve (NNR) - one of four NNRs located in Surrey.