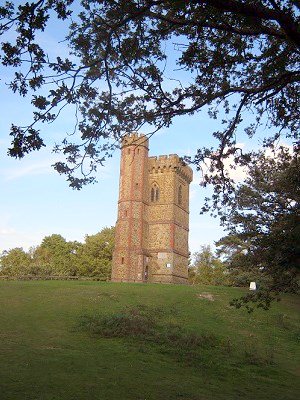 A well-known and well-loved high spot in the Surrey Hills, Leith Hill summit provides glorious views to the Greensand Ridge and onwards to the south coast. From the top of the 18th century gothic tower you'll be at the highest point in the south-east of England and can enjoy views in the other direction to London's skyline. The Greensand Way long distance trail goes right past the Tower on its way from Haslemere to Ham Street in Kent.
The National Trust manages Leith Hill Tower and the land around it on behalf of the landowner, the Wotton Estate. We work with the National Trust to manage walking routes to the Tower and the free car parks (Starveall, Windy Gap and Landslip). Please note Rhododendron Wood car park, near Leith Hill Place, is managed by the National Trust.
Access to the top of the Tower is unavailable over the winter months. The National Trust graze cattle in the area for conservation.
Please take care of our countryside and open spaces. Take note of the Countryside Code.
Accessibility
Due to its hilly nature, the trails to the summit and tower are inaccessible to those with limited mobility. There are no toilet facilities on Leith Hill.
Good For
Being away-from-it-all in a natural setting
Stunning views to the south coast and London skyline
Historic tower and refreshment hatch at base (check opening times)
Stopping off viewpoint on Greensand Way long distance trail
Many picnic spots and benches
Family time
Being in the heart of the Surrey Hills
Designated mountain biking trail 'Summer Lightning'
Wildlife watching
Beautiful woodland and heathland with many walking trails
Facilities
Three free car parks around the base of the approach to the Tower
Self-guided walking trails from car parks and around the area
Many picnic benches and viewpoints around the Tower
Victorian water fountain for filling drinks bottles and separate base for dogs and horses to drink
Refreshment servery hatch run by Tanhouse Farm Shop (check opening times)
Car park locations with What3Words reference
Starveall car park, Leith Hill Road, RH5 6LX
///bill.swear.human
Windy Gap car park, Abinger Road, RH5 6HG
Landslip car park, Abinger Road, RH5 6HG
Self-guided walking routes
There are trails from each car park up to the summit, follow the waymarks and routes as shown on information boards.
Friday Street Hammer trail starts from Friday Street car park, RH5 6JR.
The Greensand Way linear long distance trail is signposted with a symbol of Leith Hill Tower.
Contact
Send us any photos you take that you're happy to share on social media, tag @ExploreSurreyUK
If you need to get in touch to tell us about any issues at Leith Hill car parks:
Email: countryside.estate@surreycc.gov.uk
Environmental designations of Leith Hill and what they mean
Surrey Hills Area of Outstanding Beauty (AONB) covers a quarter of the county of Surrey. The AONB was designated for conservation due to its significant landscape value in 1958 and enjoys levels of protection from development.
Some areas around the Tower are designated as a Site of Special Scientific Interest (SSSIs). These are formal designations of conservation. Sites must be kept in a healthy state to protect their special habitats and features.