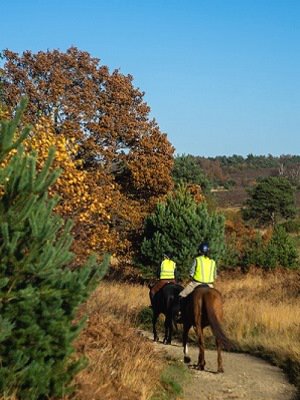 Chobham Common is the largest inland National Nature Reserve (NNR) in the south-east of England and one of four nature reserves in Surrey. It is a picturesque classic British landscape, with large areas of open lowland heaths, wetlands and ponds. The Reserve provides great mini-habitats for animals and creatures and is home to many species of birds, flowers, butterflies and insects.
Pay a visit to Chobham Common at any time of the year to enjoy its beautiful natural scenery with abundant seasonal colour, wide open spaces, small ponds to discover and many trails to wander, many of them on level ground.
Please take care of our countryside and open spaces. Take note of the Countryside Code.
Chobham Common is owned by Surrey County Council and managed by us for public access, including looking after the car parks, walking trails and other visitor services.
You will find information about how this site is managed for conservation, including grazing of cattle and the wildlife to look out for at Surrey Wildlife Trust.
Accessibility
There are unsurfaced tracks from each car park across the common, some more accessible than others
During the summer a hard track is available from Longcross car park suitable for mobility vehicles
Chobham Place Woods easy access trail is nearby
Good for
Long walks with great views across the vast landscape
Great for spotting birds, animals and insects, in their different habitats
Family time exploring in a natural environment
Dog walking - under effective control particularly during ground-nesting season
Colour all year round on the heathland
Facilities
There are six free car parks situated around the Reserve, they are not suitable for horse boxes
Self-guided trails
Nearest postcodes for car parks, What3Words and OS reference
Staple Hill car park, KT16 0ED ///impose.search.keys SU 974 648
Jubilee Mount car park on Staple Hill. KT16 0ED ///wage.forms.splice SU 974 648
Longcross car park, intersection of Longcross Road and Staple Hill KT16 0ED ///trail.toned.soda SU 974 648
Roundabout car park, GU24 8TL ///needed.lance.shin SU 965 649
Monument car park, SL5 0HY ///editor.puppy.yard SU 964 654
Fishpool car park, GU24 8HN ///belts.themes.pose SU 993 635
Self-guided walking routes
There are many footpaths and bridleways across the common to wander and enjoy. We are in the process of installing new waymarking and checking routes on Chobham Common.
Chobham Common and Albury Bottom Circular - from AllTrails
Contact
Take a photo and share with us on our social media channels @ExploreSurreyUK
If you need to get in touch to tell us about any issues at Chobham Common:
Email: countryside.estate@surreycc.gov.uk
Phone: Contact us via our contact centre
Environmental designations of Chobham Common and what they mean
National Nature Reserves (NNRs) are designated by Natural England to protect the most important areas of wildlife habitat and geological formations in Britain.
Site of Special Scientific Interest (SSSIs) as they are commonly known, are formal designations of conservation relating to rare species of flora and fauna in a site. Sites must be kept in a healthy state to protect their special habitats and features.
Chobham Common is part of the Thames Basin Heaths Special Protection Area (SPA). This is a designation under the European Directive relating to the conservation of wild birds.
Special Areas of Conservation (SACS) are protected areas in the UK as defined by central Government under specific categories.