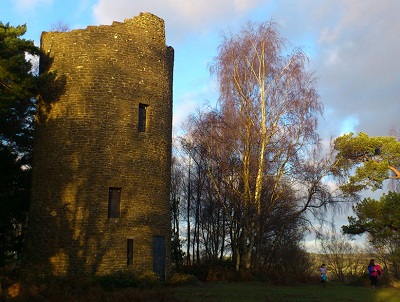 Located south of Guildford between Shalford and Wonersh in the Surrey Hills Area of Outstanding Natural Beauty (AONB). Walk up the winding woodland path for views at the top of the hill, an impressive stone folly (not open) and large open spaces to enjoy. Woodland path steep and uneven in places.
Please take care of our countryside and open spaces. Take note of the Countryside Code.
Chinthurst Hill is owned and managed by Surrey County Council for public access including site management and litter bins, car park and visitor services such as the play trail.
You will find information about how this site is managed for conservation and the wildlife to look out for at Surrey Wildlife Trust.
Accessibility
Accessible at base in car park and picnic bench area. Trail to hilltop not suitable for wheelchairs or buggies.
The Downs Link easy access route is nearby.
Good For
Impressive views at hilltop
Large open space at hilltop to explore and picnic
Winding woodland trail to hilltop to test your fitness!
Dog walking - under effective control
Family adventure play trail and picnic benches on grass to side of large car park
Seasonal colour
Facilities
Woodland adventure play trail for all located in the car park
Picnic benches in car park area
Nearest Postcode for site, What3Words and O/S map reference
GU5 0PR
comet.shapes.select
TQ014458
Car Park Location
Large car park off B2128 Kings Road, Shalford
Self-guided walking routes
There are waymarked trails at Chinthurst Hill that are being updated. Follow the colour coded routes on the information board and the waymarks en route.
The Downs Link multi-user route starting just below St Martha's church, Chilworth goes through the base of Chinthurst Hill.
Contact
Send us any photos you take that you're happy to share on social media, tag @ExploreSurreyUK
If you need to get in touch to tell us about any issues at Chinthurst Hill:
Email: countryside.estate@surreycc.gov.uk
Phone: Contact us via our contact centre
Environmental designations of Chinthurst Hill and what they mean
Surrey Hills Area of Outstanding Natural Beauty (AONB)
This covers a quarter of the county of Surrey. The Surrey Hills AONB was created in 1958 for conservation due to its significant landscape value and enjoys levels of protection from development.
Local Nature Reserve (LNR)
These are special areas designated by Natural England as being a natural resource contributing to biodiversity. They must be looked after by the local authority in whose area they are located. Find out more