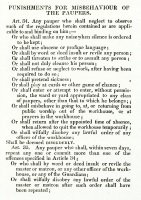 Every week, a wide assortment of archive documents and local studies material from a variety of sources passes through our doors to join the six miles of records in our strongrooms. Behind the scenes, we work closely with the records, diligently cataloguing, cleaning, conserving and packaging them so that they can be made available to the public. It's work that we thoroughly enjoy, and everyone here has a tale to tell: whether it's the story behind a favourite book, the background to an unusual collection, or how we repaired a very fragile document.
Each month, the Surrey Heritage teams showcase their own particular "Marvels of the Month".
Our February Marvel examines one of the most infamous icons of Victorian Britain.
Our December Marvel entered into in the festive spirit with highlights of seasonal records in our collections.
Our November Marvel of the Month marked the centenary of one of the most horrific conflicts of the First World War through the experiences of two Surrey men.
For Black History Month in October, we investigated the revealing records of the Slave Compensation Commission and found references to slave ownership in collections held at Surrey History Centre.
Our September Marvel of the Month celebrated the work of enthusiasts who recorded the natural history of Surrey in the 19th and early 20th centuries.
For our August Marvel of the Month, an excavation by Surrey County Archaeological Unit (SCAU) gave a valuable insight into Medieval life.
Our July Marvel of the Month showed how historical records are repaired and made accessible for the benefit of researchers today and for future generations.
Our June Marvel of the Month told one of the many fascinating WW1 stories collected through the Surrey in the Great War project.
For our May Marvel of the Month, we discovered some unusual medical remedies in the Loseley Manuscripts held at Surrey History Centre.
For our April Marvel of the Month, we discovered how a reformatory farm school in Surrey sought to improve the lives of young criminals.
For our March Marvel of the Month, we showcased artists, photographers and poets who found inspiration in the Surrey landscape.
For our February Marvel of the Month, we commemorated the lives and achievements of the LGBT community in Surrey.
---
2016 Marvels
December
November
October
September
August
July
June
May
April
March
February
---
2015 Marvels
December
November
October
September
August
July
June
May
April
March
February
---
2014 Marvels
December
November
October
September
August
July
June
May
April
March
February
---
2013 marvels
December
November
October
September
August
July
June
May
April
March
February
January
---
2012 marvels
December
November
October
September
August
July