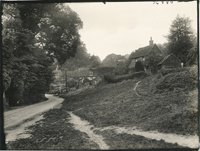 Every week, a wide assortment of archive documents and local studies material from a variety of sources passes through our doors to join the six miles of records in our strongrooms. Behind the scenes, we work closely with the records, diligently cataloguing, cleaning, conserving and packaging them so that they can be made available to the public. It's work that we thoroughly enjoy, and everyone here has a tale to tell: whether it's the story behind a favourite book, the background to an unusual collection, or how we repaired a very fragile document.
Each month, the Surrey Heritage teams showcase their own particular "Marvels of the Month".
For our March Marvel of the Month, we showcase artists, photographers and poets who have found inspiration in the Surrey landscape.
For our February Marvel of the Month, we commemorated the lives and achievements of the LGBT community in Surrey.
Our December Marvel of the Month celebrated the history of Christmas with items from our collections
The Explore Your Archive campaign aims to showcase the unique potential of archives to excite people, bring communities together, and tell amazing stories. To celebrate and explore our archives, our November Marvel of the Month featured the earliest individual county map of Surrey, published in 1594.
October was Black History Month and we discovered some wonderful 19th century sketches of African Americans in our collections, an example of how archives can reveal the most fascinating and surprising items.
Our September Marvel of the Month showed how our conservation team works wonders in treating and repairing unique and fragile historical documents.
Our August Marvel of the Month features Surrey County Archaeological Unit's important discovery of a Bronze Age metalworker's hoard, now on display in the foyer at Surrey History Centre.
Our July Marvel told the heroic story of Arthur Spooner of the 7th East Surrey Regiment. There was also a display in our foyer and artefacts were on show in our search room to commemorate the Battle of the Somme, July-November 1916.
To mark Gypsy, Roma and Traveller History Month our June Marvel looked at the arrival of Gypsies in Surrey and their early suppression.
For our May Marvel of the Month, we learned how Sir Richard Browne, father-in-law of diarist John Evelyn, was rewarded for his service to the Crown during the Civil Wars.
For our April Marvel of the Month, we learned how a Guildford fund helped Prisoners of War from the Queen's Royal West Surreys in the First World War.
For our March Marvel of the Month, we discovered how Arthur Keen's drawings helped to preserve the memory of beautiful and historic buildings in Surrey.
For our February Marvel of the Month, we delved into the 19th and early 20th century photograph albums of a prominent Surrey family.
---
2015 Marvels
December
November
October
September
August
July
June
May
April
March
February
---
2014 Marvels
December
November
October
September
August
July
June
May
April
March
February
---
2013 marvels
December
November
October
September
August
July
June
May
April
March
February
January
---
2012 marvels
December
November
October
September
August
July