A speech from Tony Samuels, Chairman of Surrey County Council
Thank you all for joining today to commemorate Holocaust Memorial Day to remember those who suffered and perished so horrendously and so needlessly at the hands of Nazi Germany. Although we cannot gather in person this year, we come together separately to remember and honour the millions of people who were murdered in the Holocaust and in subsequent acts of genocide.
This evening, when you are having your family dinner, imagine that a group of armed thugs in uniform burst in. They round you all up, ransack your home and then put you and those you love most on a train to an almost certain and utterly horrific death in the gas chamber.
It's unimaginable, isn't it? Yet that is exactly what happened to millions of people across Europe. Their 'crime'? They were Jewish. That's it. Tortured and murdered for simply being Jewish.
The indiscriminate killing of millions of Jews and many other individuals deemed as subversive by a vicious and ruthless Nazi state and their allies and emulators, was an unspeakably awful saga. So too was the gross inhumanity meted out to the victims in the scores of death camps in Germany and their conquered territories.
The United Kingdom was thankfully less affected by this disaster, although we all know what would have happened if Hitler's Nazi ambitions to occupy this country had not been frustrated by the dedication and bravery of our forefathers here and amongst our allies.
Great Britain can be proud of its record of sheltering thousands of refugees both before and after the Second World War, especially the Kinder Transport. The county of Surrey played its part too, with the establishment for instance of many hostels and places of refuge for children and adults alike.
The Holocaust itself, although perhaps in sheer numerical terms the most awful chapter in our history, is sadly not unique. Since 1945 there have been far too many instances of genocide: Cambodia, Rwanda, Bosnia, Darfur, Syria and the so-called 'Islamic State'.
It is, therefore, all the more important to keep alive the memory of what went before and to ensure that, as far as we can, we as a county and a council, stand with those who fight to prevent yet another repeat and play our part in remembering and reliving the sufferings of the past, in the earnest hope that every terrible instance is the last.
The youngest survivors of the concentration camps are now in their late 70s and they would have been born just before they were liberated at the end of the war. With fewer and fewer first-hand witnesses to give their testimony, it is all the more important to keep the memory of what happened alive.
Holocaust Memorial Day is an important part of that process and this collective act of remembrance is a focus and a recognition of our determination not to accept genocide as an inevitable part of human history. The theme of this year's Holocaust Memorial Day is 'Be the light in the darkness' – which is ever relevant and particularly poignant in today's world.
There are many different kinds of 'darkness', many of which are, sadly, still so prevalent – and, in some cases, getting more so: identity-based persecution, where regimes attempt to destroy and eliminate entire groups and their cultures; denial that the Holocaust and subsequent atrocities ever happened, which also leads to the denial of justice for those who suffered so horrifically and so unnecessarily; the spreading of lies and misinformation which can be done so easily now as people hide behind nameless and faceless social media accounts.
We must all remain vigilant against such hatred and darkness and do all we can eradicate this poison from our society.
Against the hatred and horror however, even during the darkest of times, stories of love and kindness shine through. The extraordinary acts of bravery of many who put their lives on the line to save others rise up to provide hope and remind us that evil will never ultimately win. Good will always triumph.
Wonderfully, the utterly extraordinary and unprecedented times through which we are currently living are also showing just that: the very best of which humanity is capable.
As Sir Nicholas Winton, who rescued 669 children from the Nazis, said: "Don't be content in your life just to do no wrong, be prepared every day to try and do some good."
We all have a choice. Choose kindness. Choose love. Chose light.
I will sign off with a quote from Gena Turgel MBE, survivor of the Holocaust (1923-2018): "We will continue to do our bit for as long as we can, secure in the knowledge that others will continue to light a candle long after us."
---
A speech from Ted Truscoe, Holocaust survivor
It was back in the 1990s when I was a member of a Surrey County Council group called Equality 2000 that we as a group called upon the Council to mark Holocaust Memorial Day. We had considered it to be uncontroversial but instead I found myself launched on a 15-year campaign. It was a successful campaign in the end and the commemoration is now an established part of the Surrey`s calendar thanks in no small part to the support of leaders of the Council. Even then, I still hear that this is raking up ancient sorrows that are best left forgotten. After all, where is the commemoration of the devastation of the Napoleonic wars? It isn`t an easy point to answer but I feel that I have personal input that is in part an answer.
President Biden said recently "To heal, we must remember" and it is just this that we must do. There must come a point when we cease to dwell on the horrors of the past and look forward to a better future but we cannot do this by brushing the past under the carpet. I had hoped that by confronting the horrors we could reject them and build something better and at times I felt that this was happening. However, recent years we have seen a rise in pro-Nazi groups and symbols. To see things like the Camp Auschwitz tee shirts in the Capitol riot was quite chilling and a greater display of Nazi symbols even in my native Poland which suffered so much under the Nazis is profoundly depressing. We need healing, but first we must remember or we will not know what the disease is.
For several years now I have been speaking to Surrey staff and Members about the genocides of the second world war: the many millions of Jews slaughtered along with lesser but still huge numbers of other racial and ethnic groups. Nobody knows how many. While the death factories of the camps accounted for millions, yet more millions were deliberately left to die of starvation as part of the Hunger Plan devised by Herbert Backe, who hoped to starve 30 million or so throughout eastern Europe. Backe deserves to be better known in the annals of infamy. My own grandmother died in this way.
At the age of 76 I must be one of the youngest survivors of the camps and my own testimony is largely by hearsay for I was born in 1944 in Warsaw. The city was shortly to rise against its occupiers but after a 70-day battle and hundreds of thousands killed surrender was inevitable. The entire surviving population was deported, and the city utterly destroyed. Most went through the transit camp Dulag Pruszkow where they were transferred to camps in Germany as forced labour or to Auschwitz to be selected farther. I was meant to be included in the transports to Auschwitz on the 12th and 13th of August 1944. More than 1000 children were included. Only about 120 survived. My own survival was due to a freak bit of luck: an outbreak of typhus meant that medically trained prisoners were kept behind at the camp and one doctor who knew my mother declared that she was a nurse (she wasn't ) and pulled us out of the line waiting to be put on the train . The camp was not in itself a safe place as prisoners were murdered randomly all the time. The Kommandant was later tried and executed after the war.
What is meant by being a survivor is often misunderstood. While it is something to be celebrated that you are still alive, there is a wide range of symptoms that are loosely termed "survivor guilt" and they can be felt even by those who, like me, know what we have been told, or learned rather than experienced. It showed up once when I was talking late into the night with other teenage survivors. Out of 17 16-year-olds I was the only one not to have attempted suicide. It was a lonely existence as well. In my own case there were no children my age. Most of them were dead. There was nobody to play with. In fact, I did not speak until I was two years old and only finally formed something like a friendship when I went to school in England.
England was a beacon of hope for those fleeing oppression and persecution. We were privileged to hear from Lord Dubs last year who came to England on one the last Kindertransports which saved the lives of many children. On this Holocaust Memorial Day it is appropriate to remember all those who died because nobody would take them in and they were left to the tender mercies of their oppressors. There are many reasons why people are abandoned to their fates. Often it is because people just do not believe that things are as all that bad or that stories of persecution are propaganda. Some years ago I told the story of Jan Karski who smuggled evidence to Britain of what was happening to Poland`s Jews in 1942. He was not believed. We can all point to similar cases throughout history and there are few countries which do not have at least one such atrocity in their past. It is our responsibility to remember this so that when intolerance and oppression raise their heads, we can recognise them for what they are. And then we can put our society to rights. But we must speak out. In my teaching days it was a commonplace to recognise that bullying thrives upon silence and it is not different in society in general.
We can also recognise the real heroes in this. All too often we regard successful violence as a sign of great leadership: what was Alexander the Great great at? I am pleased that only one Polish king is styled the Great: Kazimierz III . It was he who welcomed the Jews of Germany to Poland in the 14th century, gave them grants of land and said that they were his people. To show that things were not perfect he also enacted laws which imposed severe penalties on attempts to forcibly baptise Jewish children and on the desecration of Jewish cemeteries, so anti-Semitism was thriving but leadership from the top combatted it. It is an example that some of my countrymen need to follow, indeed in both my countries.
Here in Surrey we have a thriving and diverse community and every opportunity to be a shining example, a city set on a hill. Our society needs healing but, as Joe Biden said, to heal we must remember, and that is what we must do on this day.
---
The Interfaith Prayer
Lord of all creation, we stand in awe before You, impelled by the vision of the harmony of man.
We are children of many traditions - inheritors of shared wisdom and tragic misunderstandings, of proud hopes and humble successes.
Now is the time for us to meet - in memory and truth, in courage and trust, in love and promise.
In that which we share, let us see the common prayer of humanity.
In that which we differ, let us wonder at the freedom of man.
In our unity and our differences, let us know the uniqueness that is God.
May our courage match our convictions and our integrity match our hope.
May our faith in You bring us closer to each other.
And may our meeting with past and present bring blessing for the future.
---
University of Surrey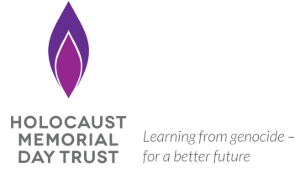 The University of Surrey is hosting a virtual Holocaust Memorial Day commemoration, which will feature a welcome from SCC Chairman Tony Samuels, a personal testimony from a survivor of the Holocaust, interviews and a performance by the Guildford School of Acting.
You can view the event live at 6pm on Wednesday 27 January:
---
Useful links
If you would like to learn more about how Surrey residents helped those who escaped the horrors of the Holocaust, please visit the Exploring Surrey's Past website.
To learn more about Holocaust Memorial Day, including this year's theme of 'Be the light in the darkness', visit the Holocaust Memorial Day Trust website.