The employee volunteering scheme gives Surrey County Council employees two days of paid time off to volunteer, as well as an additional paid day for team volunteering.
The scheme is designed to support those who regularly volunteer, and to give others who are interested in volunteering the opportunity to get involved.
If you are a Surrey County Council employee and would like to find out more, check out our 'Volunteering - all you need to know' page on SCC Info or email employeevolunteering@surreycc.gov.uk.
Here's how some of our staff have used their volunteering time:
---
New Models of Delivery team
What did they do?
The team volunteered with the Surrey Countryside Partnership, helping its Lower Mole volunteers surface the Rifle Range Path at West End Common and cut back any encroaching shrub along the side of the path.
How was it?
The team really enjoyed our day volunteering in the countryside. The regular volunteers we joined were extremely welcoming. Our team were excited to experience new skills e.g. sawing and drilling. It was an enjoyable day of hard work and all the team expressed a new found appreciation for the volunteers who maintain the woodland paths.
Saba Hussain said "I was a little dubious to begin with as to how we could possibly lay a path and thought I may not have the necessary skills, but actually was a great experience, I learned a lot, did things I never thought I could do and was really satisfied to see an improved path in front of my eyes that I could see people were using too!"
Alice Ward said "I really enjoyed spending the day outside with the team; it was very different to our normal days at County Hall. We bonded as a team, but also met some new people and they were very grateful for our assistance."
---
Surrey Skills Fest
What did they do?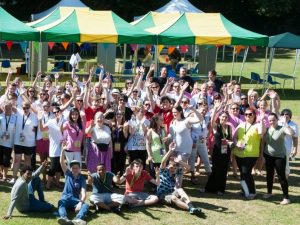 A number of employees volunteered at the Surrey Skills Fest, an event for those in or leaving care aged 14+. They assisted with setting up the stalls, welcoming guests and helping young people take part in a cooking workshop.
How was it?
It was a fantastic day! The weather was great and it was brilliant to see young people enjoying the workshops and learning some valuable skills for living independently. The celebrity guests also provided some great entertainment.
Gemma Rolph, Participation Team said "I really enjoyed volunteering at the Surrey Skills Fest. It was a fantastic chance to get to know other SCC colleagues and there was a great feeling of team spirit. I will certainly volunteer again next year!"