The theme for this year's Learning Disability Week in Surrey is celebrating living with a learning disability.
Have a voice and make a difference and get involved with your local community. If you have a learning disability we want to hear from you.
We want to highlight key features of people's lives and how individuals have adapted skills and grown in independence to thrive.
We are focusing on different elements of people's lives over this week including employment, volunteering, technology, independent and supported living, social links with friends, family, support, travel and access to opportunities.
If you would like to know more about any of the stories we have showcased or information shared then please do get in contact with us at ldcommunications@surreycc.gov.uk
If you would like to get involved with working to improve the lives of people with learning disabilities our local valuing people group bulletin has all the information you need.
We look forward to hearing from you.
---
Page content
---
Employment and volunteering
In Surrey the number of people in paid employment is 12.7% compared with the England average of 5.1% and the South East average of 6.6%. Surrey ranks seventh highest out of 151 local authorities. If we include people not in paid employment, for example people engaged in volunteering then these figures rise to 20% overall.
Research tell us that having a job or being engaged in activities that foster community inclusion improves and increases wellbeing.
Employability
Employability, part of Surrey Choices helps customers with volunteering, work experience and employment for people with support needs. Employability believes every person should be given the opportunity to gain meaningful employment. Having a routine and developing skills is a great way to boost self-esteem, increase confidence and connect with people. Employability supports the employers to provide advice, disability awareness training and ongoing support to ensure a positive outcome for a business and employee.
Active Prospects
Active Prospects have developed an Aspiring Prospects programme which was commissioned by Surrey County Council. This programme provides life skills and employability support for young people aged seventeen to twenty four with an education health and care plan.
Learn to Earn programme
The Grange have a Learn to Earn programme which was introduced to provide a structured pathway towards paid employment for people they support.
SeeAbility
SeeAbility have a supported employment programme. Emma's story highlights how she found it difficult to tell people about her skills and abilities working together, they explored what Emma needed to do to succeed.
Halow Projects
Halow Projects are a charity based in Guildford that support young people with a learning disability. Their Buddy Service works with young people, families, and private landlords to develop opportunities for supported living. Halow Support Buddies provide help and guidance to young people in their own home.
Sharing your experiences
Sarah lives in a shared house and has recently started work experience in a specialty food shop. Sarah loves her work and is also working with Izzy to travel to work independently.
Jo lives in supported living and has a paid job in a nursery every Friday, she travels to work and back via Uber taxi which she books herself via her phone.
Amanda lives in her own flat and now works in a shop. Amanda gets to work independently. When working at the shop she takes care of order fulfilment, making goods, and serving customers.
Inspiring videos
---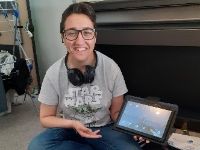 Technology
Technology offers a range of potential solutions to many of the everyday challenges that disabled people face. This can be most convenient and accessible when integrated in products designed for all, such as smartphones. Other assistive products are more specialised, such as wheelchairs, hearing aids or screen readers. The impact of products that support everyday tasks is huge.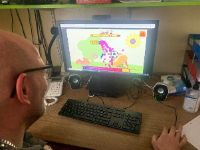 The COVID-19 pandemic has increased the importance of assistive and accessible technology for many disabled people and reminded us that access to the right technology is key to unlocking greater inclusion. Digital exclusion matters because it is linked to loneliness and isolation and the wider determinants of health (including poverty, income, and employment).
Surrey's covid grant supported the following projects;
Surrey Coalition delivered Learning Disability awareness training to their volunteer Tech Angels. It supported additional virtual social activity and produced video guides for people with learning disabilities so they could use equipment.
Active Prospects have been working on an assistive technology programme. Their aim is to increase the use of assistive technology for the people they support. Equipment such as switch devices increase life skills and independence for people with more complex physical disabilities. Each service was provided with equipment, training and 'how to' videos to share with staff.
Sharing your experiences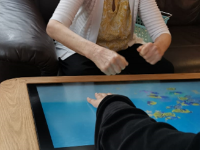 Ashley lives in supported living. A digital team work with Ashley to provide access to technology such as VOIP to help her communicate. Ashley can now use Voiceitt to play music or the radio on her Echo Show, to ask about the news or weather and control her lights. Assistive Technology Officer, Izzy, says "It's been incredible to see the progress the app has made and the progress Ashley has made in using it. She can now use Alexa without the worry that it won't understand her". Ashley thinks Voiceitt is great: "It helps me talk to people, I've got more confidence".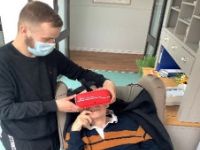 Jon from the Sunnybank Trust works on Sunny Sessions Radio and has been supporting people with a Learning Disability to produce radio, and to plan and conduct interviews. Jon explains how this has been an amazing experience and has seen how people's confidence has grown.
Mark, James and Simon - As part of the project, Mark began to work with his friend James, and they started to produce the shows at home on Zoom to begin with then face to face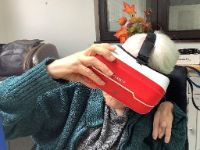 when restrictions eased. Mark's partner got involved and makes jingles, James' partner supports him behind the scenes and their other friend Simon is a weather expert. The key thing is the whole team have learning disabilities. They all work together on their shows called "It's That Friday Feeling" which are now on Surrey Hills. They record the shows at home together and I support them at Surrey Hills once a month to do one live show. They have built this up into something that has an amazing following with their own social media pages and even TikTok which they use to promote the shows and what they do.
Inspiring videos
---
Independent and supported living
There are a lot of useful services in Surrey to help residents be independent and stay safe.
Independent living refers to supported living arrangements where a person is provided with accommodation and support. Support is offered through an organisation in a way that maximises independence and self-determination. See our guide for independent living (PDF).
This can include support with developing daily living skills, and sometimes includes personal care. Independent living arrangements can be delivered in either a self-contained owner-occupied or rented accommodation or in shared accommodation for people who may require a greater level of care and support and/or prefer a group living environment but are able to exercise a greater degree of choice and control over their daily lives than would be possible in a care home setting.
More information can be found on our learning disability and autism hub under support to live your life independently.
To be able to live happy and fulfilled lives, we all need to have a safe and comfortable home. Surrey provide independent and supported living opportunities for people who have a learning disability and require added support to their lives.
Sharing your experiences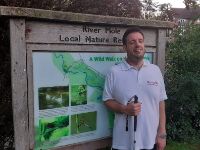 Luke lives in supported living. Luke is a Director of Surrey Coalition for Disabled People. This is a not-for-profit organisation with members living across Surrey and North East Hampshire, promoting the rights of disabled people to have equality of opportunity and to live independently. This is a fantastic achievement for Luke, who is a great champion of disability rights.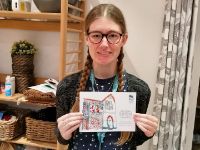 Sarah - Since moving into supported living in 2016, Sarah has made great progress. With her buddies' support she has learnt how to budget and pay bills. Her buddies also help her with chores and travel, although Sarah will now sometimes go by herself or with housemates Jen and Anna on the bus. Sarah said, "my buddies also help me with personal care sometimes and sometimes with my washing. Being in supported living has helped with teamwork. We make meal plans and when someone cooks the other two clean up." Sarah's favourite meal to cook is pasta Bolognese.
When Sarah was asked what she had gained from supported living she said, "it made me more independent and travel more independently. I've been getting the bus to town a lot. I help Jen out and I help Anna with buses. I make them laugh and I make the buddies laugh. I've made lots of friends. I learnt how to clean."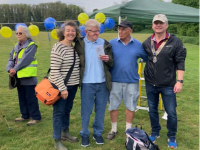 Danny, who is a Surrey tenant who had deteriorating mobility, but with consistent support and intervention this has improved. It was such great news when Danny was able to complete a 5K charity walk just recently and was able to raise £1,100 for Basil which is a charity supporting residents and short break care users in surrounding areas.
Active Prospects supports individuals in a range of shared and individual supported living services. People are supported in their life skills around the home, to access opportunities in their communities and overall life, and to grow in independence and celebrate everyone's character. Below you will see some fantastic examples of how people living their lives.
Anna sowed some vegetables and has been watering and tending to them daily. They are now ready to eat, so Anna picked the leaves, cooked them and made a meal.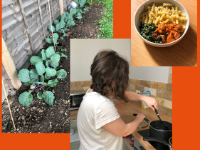 Kieran just won a prize for providing a motivational piece spoken by a word performer. He found comfort from this speech. Kieran won a bagel making kit and staff supported him to make these.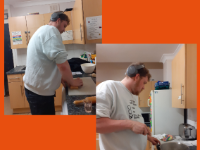 Justin is always eager to work on his skills. He has been helping around the house with cooking and cleaning. Here you can see him experimenting cuisines from around the world. He made vegetable stir fry and aloo ki tikki, which is an Indian cuisine made with potato and egg.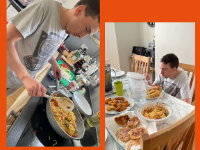 Inspiring videos
---
Building connections
Friendships and maintaining relationships are a really important aspect to life. We all deserve the opportunity to be involved within our communities and to build meaningful relationships with friends and loved ones. Here are some inspiring stories of people getting involved in projects and making meaningful connections with others.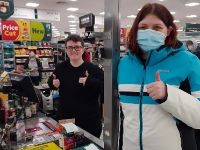 Active prospects have been out in the community developing their life skills and taking part in sports.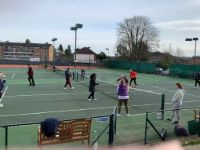 The Grange recently started a new course which then was developed and delivered by Skills for Life tutor, Lauren.
Jennifer was introduced to a phone buddy Neil during lockdown. Jenny got to meet him for the first time in February, She loves their weekly chats and is going on a short break to Bath soon so he can be her 'tour guide'.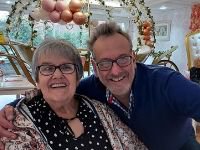 Rosie lives in supported living, Rosie has many hobbies one of which is attending a local Flower Club for flower arranging and she has developed quite a talent.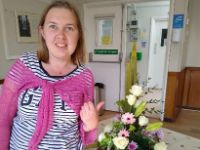 Zena lives independently in her own flat, Zena is very active in the community and belongs to lots of groups including her local Residents Association regularly attending committee meetings. Zena has also been on the TV in "The Undateables" and is an active campaigner for people with learning disabilities.

Inspiring videos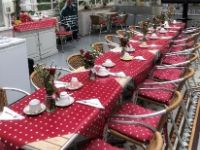 ---
Travel and accessing opportunities
Travel is a really important factor in our day to day life, whether that be travelling to meet up with friends, travelling to work, or simply travelling to pick up our weekly supermarket shopping. People with a learning disability are working hard to make traveling to destinations an easier routine and build their confidence in doing more independent tasks.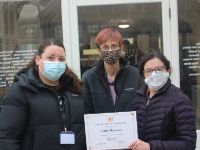 Mark from Surrey Choices was one of the award winners for Independent Living and Life Skills. He wanted to be able to travel independently and manage his money. He was supported by Surrey Choices to break down the individual tasks and worked on them until he was ready to move onto the next step. Now, for the first time in his life, he has been able to travel without assistance. This has made Mark feel more freedom in his life than he has ever felt before.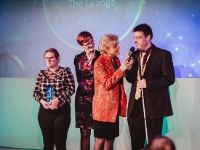 Lottie had wanted to walk independently to her sessions at the shop for a while. Skills for Life put a program into place to support Lottie to achieve this with Skills for Life tutor Izzy's support. Izzy and Lottie practiced the route many times and now not only does Lottie have all the safety knowledge she needs, but she also feels confident walking by herself.
Many of the people that are supported at The Grange have been involved in The Grange's Keep Safe Team, campaigning to make the roads and paths in our local area safer. The Keep Safe Team was instrumental in the development of a new pedestrian crossing. We are very proud to say that in recognition the team went on to win an award Campaigning for change at The Merkel third Sector Care Awards earlier this year.

Inspiring videos