Weybridge register office ceremonies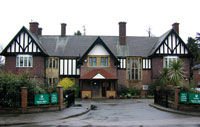 Rylston is an ideal setting for a Register Office. It has undergone some structural changes over the years, but the overall exterior of the house has hardly changed. It is a beautiful detached manor house with a large porch at the entrance, providing cover in the wet weather. The building retains most of its unique features including leaded light windows with original glass and unusual wrought iron fittings. The ground floor retains original oak panelling and fireplaces. The magnificent oak staircase with stained glass windows sweeps down to French windows leading onto the gardens.
The popular Rylston suite, tastefully decorated in burgundy, gold and ivory, has a maximum seating capacity of 48. The room offers impressive flower arrangements, mahogany furniture and appropriate framed pictures. It also has stunning chandelier lighting and the large bay window offers an attractive background for photographs. The room is air conditioned for extra comfort.
Rylston also has the statutory ceremony room for Surrey, which can accommodate six guests.